Armenia in new geopolitical turbulence: empty promises and "real contributions" of verbosity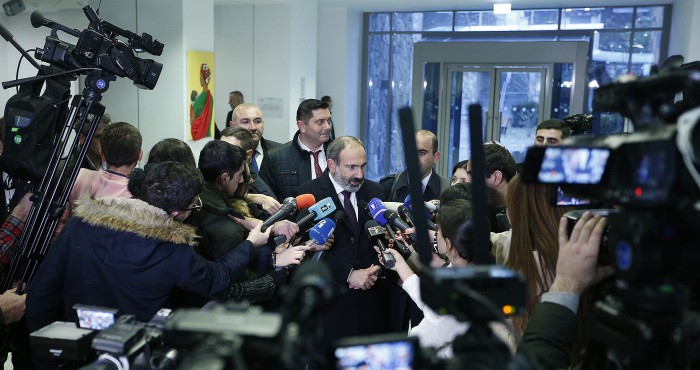 Political analysts describe the ongoing global geopolitical processes as intensive and complex. General opinion is that global tension is growing, which increases risks. The issue was recently discussed at the Munich Security Conference. Against this background, policiesof the South Caucasus countries cause much interest. Opinions of Armenian politicians and experts give a clear picture of official Yerevan`s position. The Armenian leaders still seem to have an inadequate understanding of global and regional processes. They remain adhered to their stance, which is far from reality. This increases regional risks on the one hand, while worsens Armenia`s situation on the other. This article will focus on the moves taken by the puppet state and its marionette rulers.
Against geopolitical trends: Armenian politicians` inadequate reaction
The new Armenian government`s reaction to recent geopolitical developments causes interest. It attracts attention from two aspects. First is whether the Armenian leaders can acknowledge the mistakes of their policy, and second is about the conclusions that velvet revolutionists draw from global political trends. Both aspects are obviously negative. The ''assessments'' made by Armenian political analysts demonstrate official Yerevan`s inability to rate geopolitical processes adequately.
Even pro-Armenian experts` scrawls are not enough to change this argument. Most of them subconsciously ignore Armenia`s interests, and pursue those of Russia. Every such statement is therefore far from reality.
Official Yerevan and pro-Armenian media are now alleging the revitalization of Armenia`s foreign policy in different directions. For example, Russian expert S.Tarasov and several Armenian experts allege that this policy is now giving Armenia the advantage of negotiating with superpowers rather than with the leadership of Azerbaijan. It`s quite ridiculous, but at the same time it`s typical of Armenia`s political and diplomatic philosophy of slavery.
As much as Armenia was established artificially, its policy is also based on artificial factors. Leaders of truly independent states prefer direct communication to indirect contacts. Armenia occupied Azerbaijan`s lands (with the military, political and diplomatic help of its patrons). So how can the conflict be solved without Azerbaijan? Even if the entire world joins the USA, France and Russia they cannot settle any issue without Azerbaijan`s consent. If those in Yerevan have not yet understood it, then we witness the new Armenian political incompleteness complex.
In fact, it`s not surprising because the incumbent Armenian leaders do not differ from their predecessors. Nikol Pashinyan is now trying to change his patron on the pretext of ensuring independence of his foreign policy. He is hiding his real intensions by pathetic and absurd political phrases like ''velvet revolution'', ''Armenia`s revolutionary changes'' and ''joining the civil world''. He believes that the street movement changed Armenia`s political, moral, ideological, diplomatic and cultural face. He wants others to believe that having been vassals of Russia in recent years, the Armenians are now transforming into the driving force of democracy and civilization.
So by praising Pashinyan`s government, experts in fact promote Armenia`s policy of becoming a new vassal. They hail Yerevan`s ''outstanding political moves'' in relation to Europe, Russia, Iran and Georgia. But in fact it`s patently absurd. Interestingly, Armenian politicians and experts still divide on the Russian issue. Some Russia-based experts with Armenian surnames have started accusing official Yerevan. One of them, M.Simonyan, even accused Armenia of spreading ''velvet revolution'' to Russia.
Absurd claim: a dream of those held in a vise
It`s an absurd idea because no ''velvet revolution'', no coup attempt happenedin Armeniaaccording to a U.S. scenario. Russia is a superpower which is competing with the U.S. The potential influence of Armenia is a fly in the ointment for Russia. But the Armenians love exaggerating and therefore are talking of spreading the revolution. On the other hand, Armenian media reports suggest that the Armenian diaspora in Russia has become more active and that former prime minister K.Karapetyan is now secretly holding meetings in Yerevan. Against this background, media allege that the Lazarev Club, on which the Armenians pinned great hopes, already started making anti-Armenian statements. They say ''a cold wind'' blows from the north. But media reports contradict each other in two main aspects.
First, media claim that official Yerevan`s policy is western-oriented. They substantiate their thesis by highlighting ''sincerity'' of the meeting between Armenian President Serzh Sargsyan and former U.S. Vice-President Joe Biden on the margins of the Munich Security Council. Meanwhile, Western media label Biden as powerless and old. His real influence with the U.S. policy is rated as zero and he is regarded too old to run for president. This is why the Armenian president`s meeting with Biden, whether overt and covert, cannot produce any tangible political results.
Second, Armenian media also allege the emergence of new horizons for successful cooperation with Georgia. According to reports, Yerevan and Tbilisi signed an agreement on military cooperation. Media also claim that Russia will open new border checkpoints through the territory of Abkhazia and South Ossetia, which will contribute to on-land cargo transportation. Georgia will reportedly play the role of a corridor for Armenia towards the West and Russia. Then a question arises: Why should Georgia open the way for the Armenians through its occupied territories (Tbilisi regards Abkhazia and South Ossetia as its occupied lands)? Are Georgian leaders so foolish to pursue the Armenians` interests, rather than theirowns? Unlikely. It seems to be the Armenian politicians` absurd imagination.
In this aspect, the Armenian experts` another ridiculous claim relates to Iran. They claim that Washington will turn a blind eye to Yerevan`s close cooperation with Iran. They use this prismto try to rate Pashinyan`s forthcoming visit to Tehran scheduled for February 27 through. But in reality Washington has already warned Iran several times through its embassy in Armenia. Some of these warnings concern Pashinyan`s plans to expand relations with Russia, while the rest are about Iran. So official Yerevan suffers embarrassment on the Iranian issue too. Armenia is not politically, diplomatically or militarily capable of fixing this contradiction.
Against this background, Armenia is fabricating allegations against Azerbaijan. Armenian experts claim that revitalization of Yerevan`s foreign policy is creating ''problems'' for Azerbaijan. But in reality official Baku continues to take independent and crucial steps. For example, European Commissioner for Budget and Human Resources Günther Oettinger said the European Union looks forward to receiving Azerbaijani gas via the Southern Gas Corridor in 2020 (see: Европа с нетерпением ждет начала поставок азербайджанского газа в 2020 году – Эттингер / "Interfax-Azerbaijan", February 20, 2019). He also said that the European Union will do its utmost to ensure the beginning of this supply because the Southern Gas Corridor is a strategic project for the EU as it is a new source and a new route for gas supply to Europe (see: previous source). Oettinger also said that Turkmenistan was already invited to join the project, while Hungary expressed intention to be involved.
These are facts concerning merely one project, which unambiguously confirms the effectiveness and independence of Azerbaijan`s foreign policy. The statements of the Azerbaijani leadership are based on hard facts. European officials also use facts to explain Azerbaijan`s global strategic importance. Is this the case for Armenia? Absolutely not. There are only empty promises and words. If they have facts, let them present. In general, Armenian politicians want to cry when hearing the word ''fact''.
Newtimes.az